I recently finished reading Stieg Larsson's
The Girl with the Dragon Tattoo
which a friend of mine recommended to me. At first, I didn't get the appeal. Everyone was talking about it and I guess you could say I was quite oblivious. It wasn't until my friend showed me the novel and read the back of the book that it sparked my interests.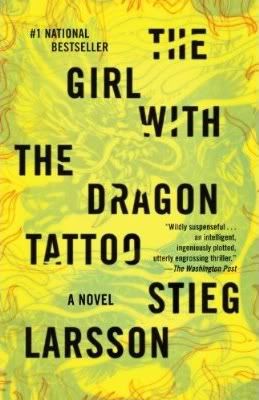 The first in a trilogy, the aging Henrik Vanger has been trying to solve the case of his missing niece, Harriet Vanger, for forty years but the case still remains unsolved. He approaches journalist Mikael Blomkvist in hopes that he will solve this age old mystery with a new set of eyes. Blomkvist, convicted of libel for his exposé on the Swedish industrialist and rival, Hans-Erik Wennerström, accepts the offer. With the help of the very eccentric and rambunctious Lisbeth Salander, they find that the Vanger family has a very interesting past. (Trying not to go into too much detail!)
It's a great and compelling novel. Once you start.. you really can't stop. You just have to read till the end to find out what really happened. Larsson has a lot of characters in the novel, so it's best to read it continuously or else you're going to be lost and confused--"Who's Cecilia again?" I can't believe Larsson wrote three (and a half) novels without it ever being published. Unfortunately he died in 2004 of a heart attack and was never able to see the success of his series. I can't wait to read the next book. I hope this gets you to read
The Girl with the Dragon Tattoo
. (:
Also, there will be a
US film version
of
The Girl with the Dragon Tattoo
coming to theaters near you in December 2011.