So I am somewhat settled into the new house. Finally got internet about 2 days ago. We had flooding in the basement and it turned out the pipes that was attached to the house to the sewers collapsed so my family and I were without water for the night. No showers, flushing, or washing dishes. Sucked when I had to pee, haha. Tomorrow my bed frame is coming and on Thursday my order of
Monsters, Inc.
and
Fringe
will be arriving. I am excited.
Okay, enough about me. Here's a book review: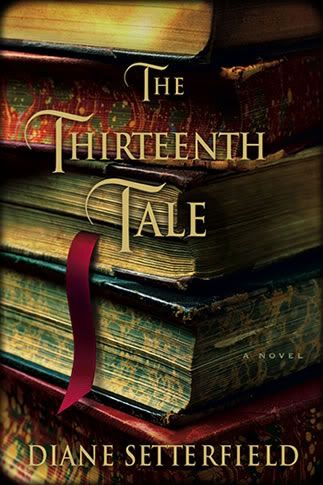 The Thirteenth Tale
by Dianne Setterfield
From
Amazon
: "Sometimes, when you open the door to the past, what you confront is your destiny.
Reclusive author Vida Winter, famous for her collection of twelve enchanting stories, has spent the past six decades penning a series of alternate lives for herself. Now old and ailing, she is ready to reveal the truth about her extraordinary existence and the violent and tragic past she has kept secret for so long. Calling on Margaret Lea, a young biographer troubled by her own painful history, Vida disinters the life she meant to bury for good. Margaret is mesmerized by the author's tale of gothic strangeness -- featuring the beautiful and willful Isabelle, the feral twins Adeline and Emmeline, a ghost, a governess, a topiary garden and a devastating fire. Together, Margaret and Vida confront the ghosts that have haunted them while becoming, finally, transformed by the truth themselves.
--This text refers to the Paperback edition."'
It's an intriguing and captivating novel that will keep you reading just to know what their secrets are. The novel often goes back and forth from the past and the present. If you want a good read, get
The Thirteenth Tale
.